Seit 1999 schreibt das TJOA Geschichte. 
Entstehung des Traffic Jam Open Airs
Was aus einer Schnapsidee einer Geburtstagsparty am 29. Mai 1999 entstand, ist heute eines der größten Festivals für härtere alternative Musik in Südhessen. Das Traffic Jam wurde bis 2017 von dem Verein Schallkultur e.V. organisiert. Im Anschluss übernahm der Verein SchallMAGNET e.v. das Traffic Jam Open Air.
2021 & 2020
Schweren Herzens müssten wir aufgrund der unsicheren Infektionslage das Traffic Jam 2020 und 2021 absagen, da unter Pandemie-Bedingungen kein gewohntes Festival stattfinden kann.
2019
Fast forward ins Jahr 2019: Am Samstag den 20.07. gegen 2 Uhr hat die letzte Band, Emil Bulls, die Bühne des Traffic Jam Open Air 2019 verlassen. Bevor die Lichter der Bühne ausgingen, hat sich die komplette Organisations-Crew, inklusive Vereinsvorstand, es sich nicht nehmen lassen selbst noch einmal die Bühne zu betreten und den Besuchern, Helfern und Sponsoren des Festivals zu danken.Monate, beinahe Jahre der Planung, haben sich voll ausgezahlt: Das Open Air war ein voller Erfolg und alle Hürden wurden mit Bravo überwunden. So können wir mittlerweile mit Stolz behaupten, das wir der größte und erfolgreichste Verein zur Förderung von Jugend- und Musikkultur in Dieburg sind, der ein Festival in der näheren Umgebung ausrichtet. Das Festival ist nach Zahlung aller Rechnungen Null-auf-Null ausgegangen, womit wir unserem Vorsatz, ein gemeinnütziger Non-Profit Verein zu sein, treu geblieben sind.
Line Up
Emil Bulls, Deeznuts, Ektomorf, H20, Mädness&Döll, NH3, The Butcher Sisters, All But One, Une Misere, Ze Gran Zeft, Shellz, SetyourSails, Frau Ruth, Battery, Ocean of Plague, Coast Down, Inflator, Melted Moon, Sharp/Shock, Apollo Apes, Forging the storm.
2018
Aufgrund dass sich der Verein noch in der Findungsphase befand, hat 2018 kein Festival stattgefunden.
2017
Royal Republic, Evergreen Terrace, Caliban, ZSK, Sondaschule, Crazy Town, Elfmorgen, Götz Widmann, Our Hollow Our Home, Vitja, Scherf & Band, All for Nothing, Anchors & Hearts, Drei Meter Feldweg, Stolen Mind, The Oklahoma Kid, Fatke, Nulldb, Nautilus, Stonem, Of Colours, Escandalos, Some Kind of Hope
2016
Silverstein (Kanada), Ignite (USA), Atari Teenage Riot (Berlin), Madball (USA), Hacktivist, John Coffey (Niederlande), Being as an Ocean (USA), Wisdom in Chains, Rise of the Northstar, Astroid Boys, Coldburn, Pay no Respect, Carbine, Peace of Mind, Aeons of Corruption, Taped, Fall of Gaia, Blood for Betrayal, City Kids Feel the Beat, pornophonique (Darmstadt), Domi, bade! (Frankfurt am Main), I Am Noah, Born as Lions, Forgotten Chapter, King Nugget Gang, Humppa con Panhas, Four Monkeys
2015
Callejon, Soulfly, Emil Bulls, The Black Dahlia Murder, Less Than Jake, Rantanplan, Adept (Abgesagt), Nasty, H2O, Lionheart, The Green River Burial, Arise from the Fallen, Broken Teeth, Scheisse Minelli, Rafiki, I am Revenge, Swallow Your Pride, Seraphim Falls, Shattered lions, Captain Capgras, Their Decay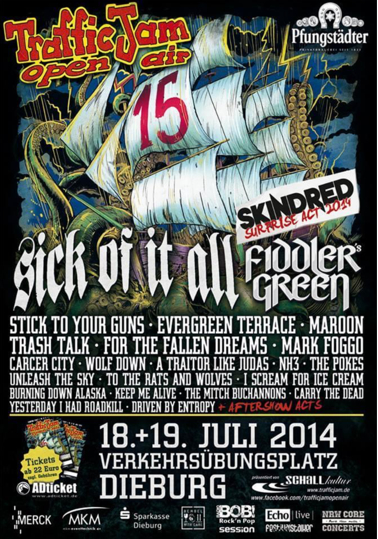 2014
Skindred, Evergreen Terrace (USA), Four Monkeys, Fiddler's Green (Erlangen), Sick of It All (USA), Stick to Your Guns (USA), A Traitor Like Judas (Braunschweig), To the Rats and Wolfes (Essen), Wolf Down (NRW), The Pokes (Berlin), Unleash the Sky (Darmstadt), For the Fallen Dreams, Mark Foggo's fallen dreams, Trash Talk, Maroon, NH3, Carcer City, I scream for ice scream, Keep me alive, Driven by Entropy, Burning down alaska, Burning fight, Yesterday i had roadkill, The mitch buchannons, Carry the dead, Gembala
2013
Suicidal Tendencies (USA), Madball (USA), Caliban (NRW), Strike Anywhere (USA), Sondaschule (Oberhausen & Mülheim/Ruhr), Deadlock (Jena), KMPFSPRT (NRW), Marathonmann (München), Nasty (Belgien/DE), Awesome Scampis (Dortmund), Buffet of Fate (Wiesbaden), Evil Cavies (Friedberg), God Delusion (Heidelberg), Madison Affair (Berlin), Nitro Injekzia (Russland/Kanada/Berlin), Placenta (Berlin), Rising Anger (Wiesbaden), The Wolves
2012
Suicide Silence (USA), Gallows (UK), Architects (UK), Your Demise (UK), Set Your Goals (USA), As They Burn (FR), Monsters of Liedermaching (Hamburg), Helia (I), No Turning Back (NL), Breakdown of Sanity (CH), Korsakow (Düsseldorf), Big D and the Kids Table (USA) (abgesagt), Random Hand (UK), Reign Supreme (USA), The Coconut Butts (Aachen), Emproad (Kaiserslautern), The Green River Burial (Frankfurt), Elderstream (Aschaffenburg), Kosslowski (Wattenscheid), The Hand of Glory (Wiesbaden / Mannheim / ZW / KL), Nothings Left (Darmstadt / Dieburg), Thee Infidels (Gelnhausen), Dirty Rodriguez (Saarbrücken), The Porters (Düsseldorf / Duisburg)
2011
Agnostic Front (New York, USA), Comeback Kid (Winnipeg, Canada), Bury Tomorrow (Southampton, UK), Montreal (Hamburg, Germany), Mad Sin, Malefice (UK), More Than a Thousand (PT), Polar Bear Club (USA), Mr. Irish Bastard, Random Hand (UK) (abgesagt), Barulheiros, Stick to Your Guns (USA), The Eyes Of A Traitor (UK), We Butter the Bread with Butter, Burden, Das Actionteam, Destination Anywhere, DOLF, Eskimo Callboy, The Mofos, The Suicide Kings, They Shall Damage, Ungunst (Offenbach, Germany), Unleash the Sky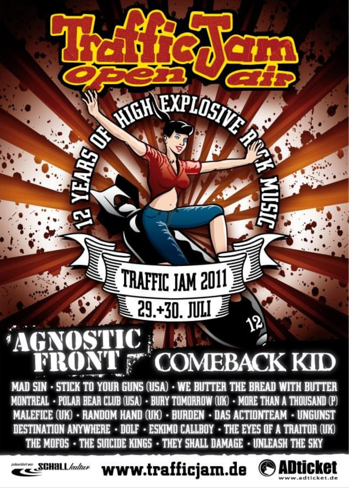 2010
Combichrist (N/USA), Evergreen Terrace (USA), H2O (USA), The Sorrow (A), Six Reasons to Kill (Metalcore aus Koblenz), Russkaja (A), The Ghost of a Thousand (UK), Bleed from Within (UK), Black Bomb A (F), Sylosis (UK), Kafkas (GER), The Bottrops (Punk aus Berlin), Redska (I), Me and Mark (USA), His Statue Falls (Saarbrücken), 47 Million Dollars (Darmstadt), Die Traktor (Frankfurt), Shellycoat (Hamburg), Save Today (Bamberg), Tequila Terminators (Miltenberg), The Black Velvet Band (Bayern), Inhuman (Dreieich), Funkfragen (Dieburg), Sputnik Booster & The Future Posers (Bayern), New Year's Resolution (Kaiserslautern)
2008
All Its Grace, AndiOliPhilipp, At the Farewell Party, Callejon (kurzfristig ausgefallen), Death by Stereo, The Durango Riot, Ektomorf, Eternal Tango, Illectronic Rock, Kohatred, Legal Hate, The Magnificent Brotherhood, The Pokes, Raya, The Real McCoy, Soilwork, The Turbo A.C.'s, War from a Harlot's Mouth, Welle: Erdball, Gewinner des Trafficlights Bandcontest
2007
Fiddler's Green, Heaven Shall Burn, MYHERO, Peter Pan Speedrock, Six Reasons to Kill, Mnemic, Gods of Blitz, End of Green, Divinus, ear-O-tation, Nayled, Oma's Zwerge, Pillow fight Club, Pristine, THE SMU, Ragin Diarrhea, Silent Decay, Stillway, Tenside, Bathtub Aquanauts
2006
Antitainment, Caliban, Cashless, Casketnail, Contraption, Dark Sense, Downtown Torpedoes, Evil Cavies, Götz Widmann, Hatesphere, Ignite, Itrip, Longing for Tomorrow, Mad Monks, Masons Arms, Neaera, Pornophonique, Smoke Blow, The Briggs, The Heartbreak Motel, The Real McKenzies
2005
4Lyn, 47 Million Dollars, Baxter, Betontod, Bushfire, Cataract, Courageous, Gapline, Green Frog Feet, Maroon, Nirgendwo, Nme.Mine, No Mayers 50, President Evil, Rejected, Shark Soup, Skalamander, Capones, The Ordinary Me, The Wohlstandskinder
2004
Alev, Booty Busters, Brainless Wankers, Burst of Fire, Days in Grief, De Heideroosjes, Ektomorf, Freak 91, Ironcow, Itchy Poopzkid, Junkhead, Kalögena, Los Motorpedos, Lost in a Maze, Mom's Favorite Dudes, Nevermind, Warchild X, Zoma
2003
Crosscut, Dropp D, Dritte Wahl, Elfmorgen, Everest, Fairshot, Fitfull Flake, Guerrilla, Hopscotch, Jan feat. U.D.S.S.R., Kontrust, Legal Hate, Melancholic Seasons, My Local Hero, Rekorder, Royal Kikka Club, The Shubidoos, V8 Wankers, Waterdown
2002
Always Damaged, ELX, Fate, Freezeebee, g.i.f.t., Hopscotch, Jogit Beat, Knock Out, Mom's Favorite Dudes, Obscurity, Peremptory Order, Perfect Stranger, Planlos, Royal Kikka Club, Skunk, Thorn Eleven, VP-1
2001
Buttcut, Cumicom, Deepak, Disbelief, Eternity, Fate, Las Vegas, Obscurity, Pisces, Presskopp, Royal Kikka Club, Sunyard, Szuspekkt, Toxic Brainfood, VP-1
2000
Chil-Bain, Deepak, Dipsomonia, Eat This, Jaywalker, Outrage, Reinhard + Mai, Sniper At Work, Soliloqui, Weed
1999
Jaywalker, Outrage, Red Noxious, Weed, Zero
Folgt uns und bleibt up-to-date
#thatsmyjam #tj2022